Release.

Biomin H – Natural Energy EP
Date

25/02/2011

Catalog

SLBR008

Genres

Artists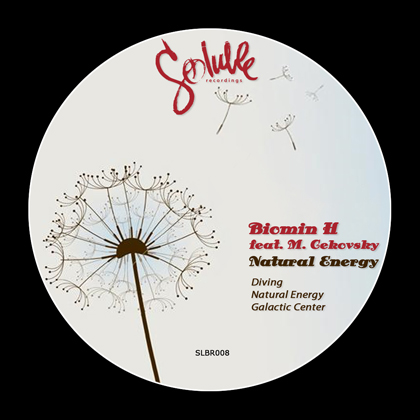 Biomin H is 3 member project which consists of Slovak studio freaks Jan Tlama Tlamka aka JTBIG, Kece and Jozef Caco Matejka. All of them are also members of some other musical projects. While JTBIG belongs to DJTproject and LMT, Kece is a part of Sensoreal duo and Caco is a guitarist in a New Metal formation Quarreling Men.
Biomin H was established spontaneously at the end of 2010. They work together in TC studio, Liptovsky Mikulas/SK where they create their "cosmic grooves". Their new release Natural Energy consist of 3 tracks, each different in nature to make it more diverse. Diving is very pleasant Chill House tune with a relaxed feel, like it was sung by whales somewhere at bottom of the ocean. Natural Energy is a more experimental and Jazz influenced track. It's a result of cooperation between Biomin H and Marian Cekovsky the best Slovak keyboard player who provided his wonderfull hammond riffs. Galactic Center is more Dark Deep piece with a bit of Tech edge to it. Careful when listening this one, so that it doesn't suck you into the blackhole, as you might end up vanishing in the space-time.