Release.

Dave Boyle – Sundance
Date

11/03/2012

Catalog

SLBR023

Genres

Artists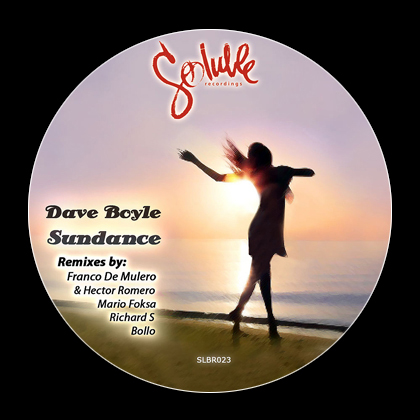 After the winter solstice, the days are getting longer, and the nights shorter. It's a seasonal shift that nearly everyone notices. The spring is just behind the door and for us it's a signal to celebrate. And for that purpose, some nice sunny house music is needed, therefore we think it's the right time to introduce to you the brand new banging EP by the Slovak house talent Dave Boyle.
Dave Boyle is not a new member to Soluble Recordings family, as his track "Secret Speech" that he's done under his alias Dave B., came out on the VA Soluble Picks compilation. Remixes for this package were supplied by two other young talents Richard Scholtz and Mario Foksa, label chief Bollo and last, but not least Barcelona based heavy weight producer Franco De Mulero in collaboration with Bronx native Hector Romero. Franco De Mulero has spent the majority of his youth spinning records at some of the best Clubs like El Divino resident for 5 years, Pacha, Amnesia, Space, Privilege etc. and cutting tracks in his native country of the Balearic island of Ibiza. Franco has worked with such names as David Morales, Full intention ( Michael Gray & John Pearn ), Robert Owens to name just a few.
His production talents have been called upon by the great and the good over the past few years in collaboration with major music labels such as Kings Of Groove, Pacha recordings, King Street, Purple Music, Soulfuric, Salted Music, Universal, Shifted Music, Solid Ground,Ultra recs, Def Mix to name a few – the names say it all. Hector Romero landed his first job at La Mirage, known at the time as one of the hottest dance clubs in the Bronx. Hector was soon spinning at a number of downtown Manhattan clubs including Save the Robots, Palladium, Roxy and The Red Zone where he opened for David Morales.
Due to his outstanding work ethics while DJing, working in a local record shop and running the promotions department at Emotive Records, David Morales recruited Romero to run the day-to-day operations of DMI Records. Hector continues to DJ internationally and has established residencies at Stereo in Montreal and Pacha in Ibiza. Hector also oversees and participates as the resident DJ for Def Mix Radio, a monthly Podcast featured on iTunes and Def Mix.com. Each show presents quality house music from around the globe and features guest DJ's as well as fellow Def Mixers, David Morales and Frankie Knuckles. Now, that enough words have been said, check it out and let the music speak for it self!!