Date

31/03/2015

Catalog

SLBR039

Genres

Artists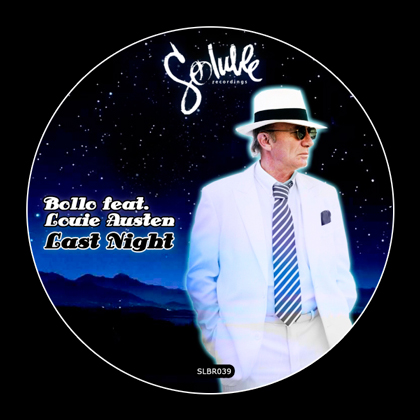 Bollo is back with a new single called "Last Night". This time he has teamed up with Austrian vocalist Louie Austen to create this unique deephouse tune with Louie's charismatic voice that tells a story. They have first met at Nuspirit Club (Slovakia), where Louie performed that time, and it didn't take too long until they found themselves sitting in a studio in Vienna.
Born in 1946, Louie Austen is an entertainer from another generation. He worked for years in Las Vegas on the track of his idols, the famous rat pack (Frank Sinatra, Dean Martin & Sammy Davis Jr.) Since 1999, he also is a performer in electronic music and has released many albums and singles in this genre he refers to as electrocrooning. His last album Iguana has been released on Klein Records in 2006 and his new double album "Last Man Crooning / Electrotaining You!" got released in 2010 along with two singles and is his 7th studio album on his own label LA Music – Louie Austen Music he had founded back in 2007 as a home for his musical releases.
Austen has a cameo as gambler in Stefan Ruzowitzky´s The Counterfeiters movie, which won in the category best foreign movie at the 2008 Oscars.
"Art must be a matter of life and death – otherwise it's not art" is Louie´s sincere conviction. Just like "I´ll never retire, I´ll probably die on stage." One thing the Viennese Electro-crooner doesn't go for is doing things by half. Whatever he does is done with his fullest commitment – and often regardless of the consequences. Admittedly, this reckless attitude has gotten him into serious trouble time and again. And yet it also made him what he is today: a man who finds himself an upcoming and sought-after artist whose career hasn't yet reached its climax.
More Info about Louie Austen: https://www.facebook.com/louieausten